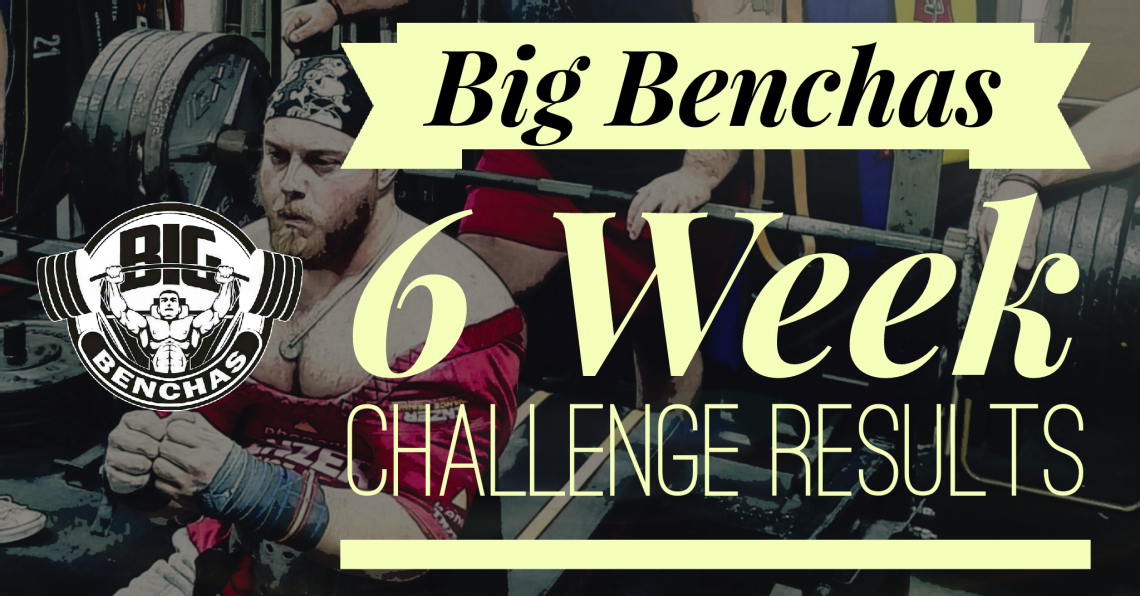 Another 6 week challenge in the books! The results were unbelievable yet again! We had such a great group of lifters who were active throughout and were truly trying to better themselves. For those of you who aren't familiar with our 6 week challenge, it is a 6 week bench program that I coach lifters through on our online coaching system. Participants run the program for 6 weeks and frequently check in with me and post videos for review.
At the end of the week I choose 3 winners but I don't choose them based on who gained the most on their 1 rep max bench. I want this challenge to be deeper than that so I choose winners based on multiple criteria
1 Rep Max Increase
Technical Improvement
Overall Confidence Gained
This is a bigger picture look on who got the most out of our program. As many people that enter are eligible to participate and we run the challenge twice a year! Spring and Fall!
Each time through this program I make tweaks and adjustments and then offer it for sale in our store. Many lifters have been through the ringer on this program and the results have been amazing! See for yourself below! These are some of the amazing results lifters have seen in just 6 weeks time. Some of the poundage these lifters are gaining to their bench isnt uncommon to see gained in a year period! They are doing it in just a month and a half.
Jon 30 lb PR (375 –> 405)
Jason 20 lb PR (340 –> 360)
Robb Mantovani 18 lb PR (397 –> 415) 
Tommy 16 lb PR (260 –> 276)
Danny 15 lb PR (210 –> 225)
Josh 15 lb PR (220 —> 235 lb) in Competition!
Nathan 15 lb PR (155 –> 170)
Daniel 12 lb PR (286 –> 298)
David 11 lb PR (335 –> 346)
Filip 11 lb PR (171 –> 182)
Bryant 10 lb PR (275 –> 285)
Rachel 10 lb PR (165 –> 175)
Kyle 5 lb PR (250 –> 255)
Pat 5 lb PR (295 –> 300)
Keaton – 300 lbs (Post Surgery All Time PR)
These staggering results reveal an average increase of 15 lbs! Thats incredible and is a testament to the quality of lifters our challenge attracts. We receive some unbelievable talent and some really dedicated athletes. I lay the groundwork through our video review process but each one of these results have been earned through hard work.
So yet another challenge has passed us by and I'd like to announce the winners and their prizes!
Grand Prize – Jon Ruell
Jon had the biggest increase we've seen over the duration of the challenge. He would consistently post and implement cues to get better week after week. He had his eyes on breaking through the 400 lb barrier and thats what he accomplished. That big of a gain at that high of a weight is pretty incredible
2nd Prize – James Dedrickson
James isn't lifting the most weight, nor did he even consider himself anything close to a "powerlifter" before starting. However throughout the challenge he kept an open mind and put forth his best effort. He started falling in love with the objectives of the training and the style of training we were implementing. He engaged with me and his teammates and learned a lot. Better yet he read our motivation monday posts and applied that information to make drastic changes in his life that lead to his increased happiness. Even his wife said she noticed! Thats a true winner!
3rd Prize – Andrew Norris
Andrew is a very strong bencher! pushing through numbers in the 400's to make a run at 500 one day. His technique at first was mostly momentum based and he was accepting enough to try and convert over to a tighter set up and a tighter bench overall. He is one of those lifters that had to accept taking a step back to take a leap forward. His approach to benching and technique improved twofold over the challenge. He is still working on his new technique but is well on his way to shattering new PR's in the near future.
Past Grand Prize Winner – Rachel Elizabeth
Rachel excelled in our first 6 week challenge! She gained an overall 10 lbs to her bench in just 6 weeks and made significant technical improvements! When we first started I wasn't sure how quickly she might pick up on the changes we were trying to make but she did very quickly and was a completely different lifter by the end!
Selecting a winner is never easy but it must be done. I want to thank everyone who has participated in this challenge and I hope to keep seeing it build over the years. It gets bigger and better every time! Next challenge will be held this upcoming April/May!
If you'd like to purchase our 6 week bench program that has delivered the same results you see above, you can do so via the link below! Use Discount Code: THECHALLENGE for 50% OFF the program until December 31st 11:59 PM ET!
THE 6 Week Bench Program –  https://www.bigbenchas.com/store/#!/THE-6-Week-Bench-Program/p/89329229/category=24333193